Daniel Vladeta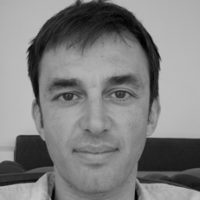 解剖学と生理学の学士号を取得後、大学院にて神経科学、分子生物学、オステオパシーを学ぶ。個人的に筋膜と頭蓋仙骨テクニックを学ぶ。代償的パターンが生理学的、機能的にどのような変化を与えるか、また治療やリハビリのエクササイズがそれにどう対応できるかに関心を持つ。
90年代の後半、脊柱と整形外科の会社で勤務する。仕事を通して優秀な外科医と共に手術具の開発に取り組む。オーストラリアに帰国後、バイオフィードバックまたは自己制御の装置の開発に取り組む。不安定な支持基底面を持ち、リハビリテーションにも機能的エクササイズにも使用できるOovが誕生した。
現在は一流の開業医と共同してリハビリテーションとエクササイズの処方に取り組み、世界中の理学療法士、整骨医、カイロプラクター、運動生理学者、ピラティスインストラクター、パーソナルトレーナーに向けてワークショップを開催している。これまでにテニス、ゴルフ、ラグビー、オーストラリアンフットボール、水泳、陸上競技など含めた全てのスポーツの一流選手、プロ選手との仕事に携わる。
After completing a BSc in Anatomy and Physiology, Daniel continued Post Graduate studies in Neuroscience, Molecular Biology and Osteopathy. In private practice, he continued his studies with Myofascial and Cranial Sacral Techniques.
Daniels interest was in how compensatory patterns translate to physiological and functional change, and looked at ways treatment and rehabilitative exercise could be used to address these.
In the late 90's, Daniel began work with a Spinal and Orthopaedic Company, that lead to him working around the world with top surgeons, and the development of Surgical Devices.
His return to Australia lead him to commence development of a device that acted as a bio-feedback or self regulating device, that acted as an unstable base, to be used in both Rehabilitation and Functional Exercise. The Oov was launched.
Daniel now works with leading practitioners collaborating on Rehab and Exercise prescription, and delivers workshops to Physiotherapists, Osteopaths, Chiropractors, Exercise Physiologists, Pilates instructors and Personal Trainers around the world.
He has worked with elite and professional athletes in all sports, including Tennis, Golf, Rugby, AFL, Swimming and Athletics.